About us
We're here because all kids deserve to smile.
The Kharma Family was established to help children in poverty here in Thailand. We are a group of volunteers who work in some of the kingdom's less developed regions to help local children get a better start in life. We not only donate supplies and give financial support, but also undertake long-term projects to improve the local infrastructure, living areas and school buildings, and motivate young people and their parents to see the advantages of education and training.
The Kharma Family relies on the generosity of donors and our volunteers to do its work, and in our recent projects we have donated beds, mattresses, and blankets, but also clothing too. We also donate teaching and school equipment, and build play areas for younger children.
In the days we are present at a school, volunteers like to teach the children some important life lessons, and have fun leading singing and dancing while teaching reading and writing skills. And for some pleasure, we supply sport and activities goods, as well as play areas for younger children.
---
Our Founder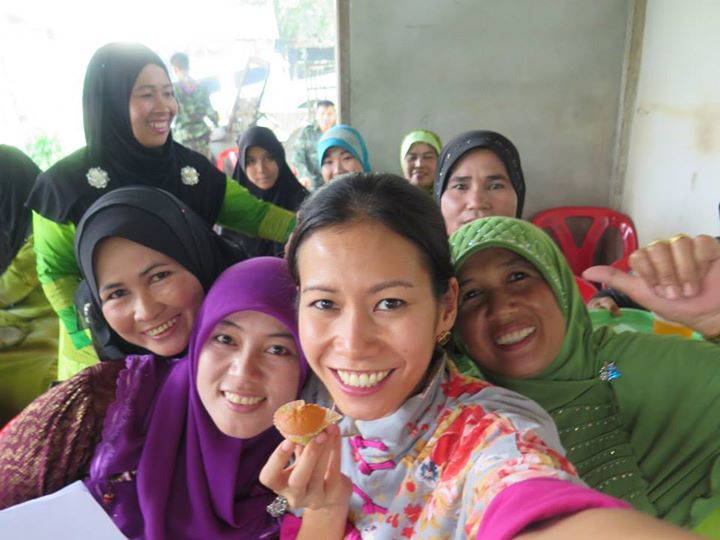 Nion Sunpawishu, a Thai national, born and raised in Bangkok started the Kharma Family with the aim of improving the lives of many of the kingdom's poorest children. Knowing the dangers and problems that young people face in Southern Thailand, a region often neglected by other aid agencies and organizations due to its unique challenges and dangers, she wanted to reach out to local communities and invite them to join forces with talented volunteers to improve things for local children. Being a teacher of Thai to foreigners living and working in Thailand meant that Nion has contacts with a range of people who wanted to give something back to Thailand and who had a range of skills to offer.
---
Our Family
The Kharma Family is not a set group of workers, not a limited bunch of people; it is a positive group of volunteers from every corner of the globe. Every year the team may vary with different people from different companies or universities. But all volunteers share a common goal: to finish the project! In the process, we also like to have fun with the kids, of course, and feel the positive experience of doing something unselfish and good.
---
Meet the Family
---
Why we are different
Here at the Karma Family we operate a little differently to many charities. We pick an annual cause and do a three-month fundraising drive to get the money and material donations to complete our project. This means that every baht goes towards the children and communities that need it. Our fundraising period runs from October to December. We don't fundraise year-round, and so aren't under pressure to retain funds in our bank accounts or balance and juggle funds between different projects. Because we work this way, our donors know that the money and goods they donate are going directly and quickly to the children that need them, and that not a satang will be wasted in administration or running costs.
---
Learn more about our mission
There will be no barrier to the kids and the people we help based on gender, religion, ethnicity and sexuality. The people we want to help are individual human beings just like us and will be treated with respect and dignity.
We will continue the clear and transparent way in which we provide support and help. We guarantee as previously that all financial aid and resources we receive will go directly to the communities we are trying to help. The volunteers at Kharma family will receive no financial support. All volunteers will pay for their own travel and accommodation expenses, which they incur while carrying out the work of the organization. This also includes any research trips that are carried out. Volunteers will also be expected to contribute financially to the food we donate to the Schools we work in. To be clear every Baht that is raised will be spent on the Children whose lives we hope to improve.
The Kharma Family will be just that - a family. Our volunteers will be family members. In order to be family members they must be willing to support the family. This means they have to be willing to commit to contributing financial support and or their time once a year.
The Kharma Family would prefer to have donations made in the form of resources, for example toilets, construction equipment. These resources will then be sent directly to the location where the project will take place. We of course accept financial donations but understand some people may not feel comfortable making this type of donation.
The Kharma Family will ensure that an accurate and detailed report of all resources and financial accounts are provided and made public to all family members.
The projects we will carry out will be based on need and how urgent that need is. We will always look at the basic needs of children first, for example ensuring that there are adequate resources for the children in respect of basic health and hygiene.
Once the project for the coming year has been identified, we will aim to raise only the amount of funds/resources needed for that project. However if we have resources or funds remaining, we will ensure this is recorded and included in the reports and used in future projects.
Want to help out? Why not volunteer or make a donation?
Every little helps and there are few more rewarding things than the smile of a child